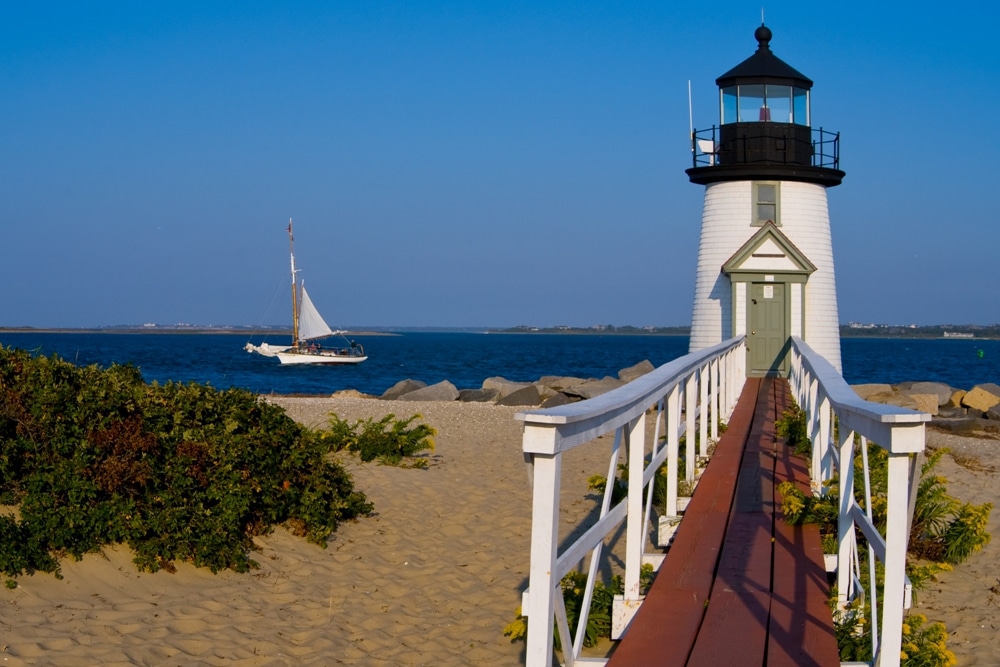 The History of The Captain's House Inn – Cape Cod Massachusetts – The stately home that would become the Captain's House Inn was the idea of Captain H. Harding. He had the home built in the Greek Revival architectural style in 1839 as a gift to his bride (to whom he had been married for one year), Lydia. Both the Captain's House and the inn across the road were built by Captain T. Loveland. All of the interior decorations, such as trim and moulding, were built by tools that Loveland had built by hand himself. Some of these tools are still on display.
The wood used for the construction of these two homes was shipped in from Maine, and arrived on schooner vessels into the old wharf. During those days, it was not difficult for large vessels to navigate the harbor.
Captain H. Harding and his wife, Lydia, gave birth to nine children. One of their sons went on to become a captain of the seas just like his father. Several of the rooms within the inn are named after their children and the ships captained by Harding.
The Harding's youngest daughter sold the home to a shipping tycoon from Massachusetts in 1915. Daniel Manson of Salem bought the home to use for a summertime residence, and floated his own home down from either Maine or Nantucket, as the story goes, adding to the estate. This home is now referred to as the Captain Cottage: a well-detailed and -preserved illustration of a dwelling of that time period. The cottage was Manson's respite from the main house, and he would invite his businessmen friends here for scotch and games of poker.
While the estate has changed hands several times since its inception, and each owner adding his or her own touches, the overall ambiance has remained the same. The Meyer family has owned the estate since 2006, and today the Captain's House Inn is one of the East Coast's most sought-after bed and breakfast stays. The grounds boast several large fountains, English gardens, and patios from which to enjoy the view of it all. There is a heated pool and a fitness center also, making this the best choice for your Cape Cod stay regardless of your reasons for getting away from it all.