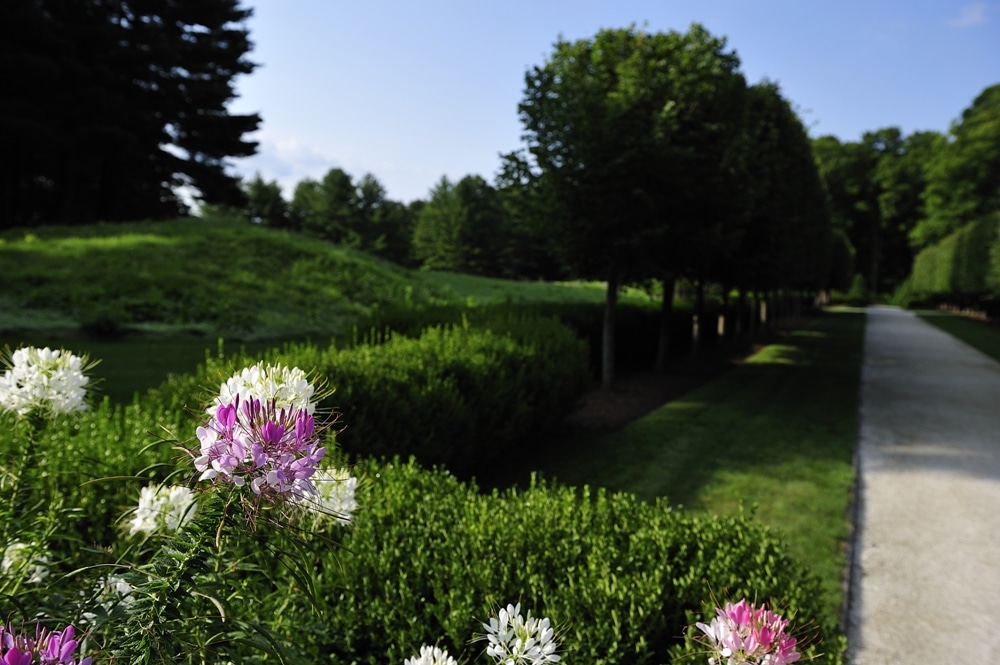 Wheatleigh was the wedding gift of Henry Cook to his daughter, Georgie, when she married the Spanish Count, Carlos de Heredia. Cook came from a long line of hard workers, and he himself was a financier, railroad and real estate tycoon, and a banker. His great, great grandfather founded the town of Portsmouth, Rhode Island; his father, one of the original builders of the Erie Railroad. Wheatleigh was his gift to his daughter from bringing royalty to the family.
The architectural design of Wheatleigh was based on the Italian Florentine palace design of the 1500s. Most of the materials and more than 150 special craftsmen came from Italy to design the interior/exterior carving work. The landscape designer responsible for Central Park, Frederick Law Olmstead, also designed Wheatleigh Park.
Wheatleigh's nearly 400 acres were, for many years, an actual working farm. Carlos and Georgie lived at Wheatleigh for a mere six weeks of each year. While there, they had a staff of forty. Their main residence was located on New York City's Fifth Avenue. Wheatleigh became the place to be, and grand galas and music events took place there.
Today, while you'll find 21st century comforts at Wheatleigh, you'll also be treated to profoundly elegant, personalized service in keeping with French grand traditions.
There are nineteen suites, each blending style with sophistication. Antique furnishings and original pieces of art round out the overall style of Wheatleigh.
Today's Wheatleigh is still privately owned, and is situated on over twenty acres that overlook Berkshire's lakes and mountains. It is easily accessible by car from both Boston and New York, about a 2.5-hour trip. Private planes will also find the property readily accessible. Wheatleigh has won many awards for its amenities, and also features quite possibly the east coast's best dining room.
While the palace was originally built in 1893, you'll find the renovations for this millennium have created a unique bit of luxury in a place where luxury is commonplace. Wheatleigh is open all year long, so winter getaways offer skiing and other luxurious accommodations.